AMTE is committed to promoting the use of Elementary Mathematics Specialists in PK-6 environments to enhance the teaching, learning, and assessing of mathematics in order to improve student achievement.
EMS Scholarship Program
The AMTE Elementary Mathematics Specialist Scholarship program provides support to teachers in their development as elementary mathematics specialists. Recipients receive $2,000 of funding to enhance their mathematics knowledge, teaching, and leadership by enrolling in university coursework or other training to develop the expertise in becoming an elementary mathematics specialist. Funds should be used to work towards an EMS certificate or endorsement.
Featured Resources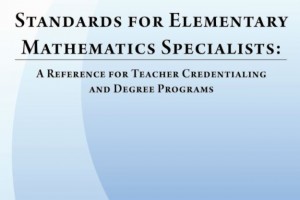 AMTE published the Standards for Elementary Mathematics Specialists: A Reference for Teacher Credentialing and Degree Programs in January 2010. In response to the updated Mathematics Education for Teachers 2 and the release of the Common Core State Standards for Mathematics they refined the standards in 2013.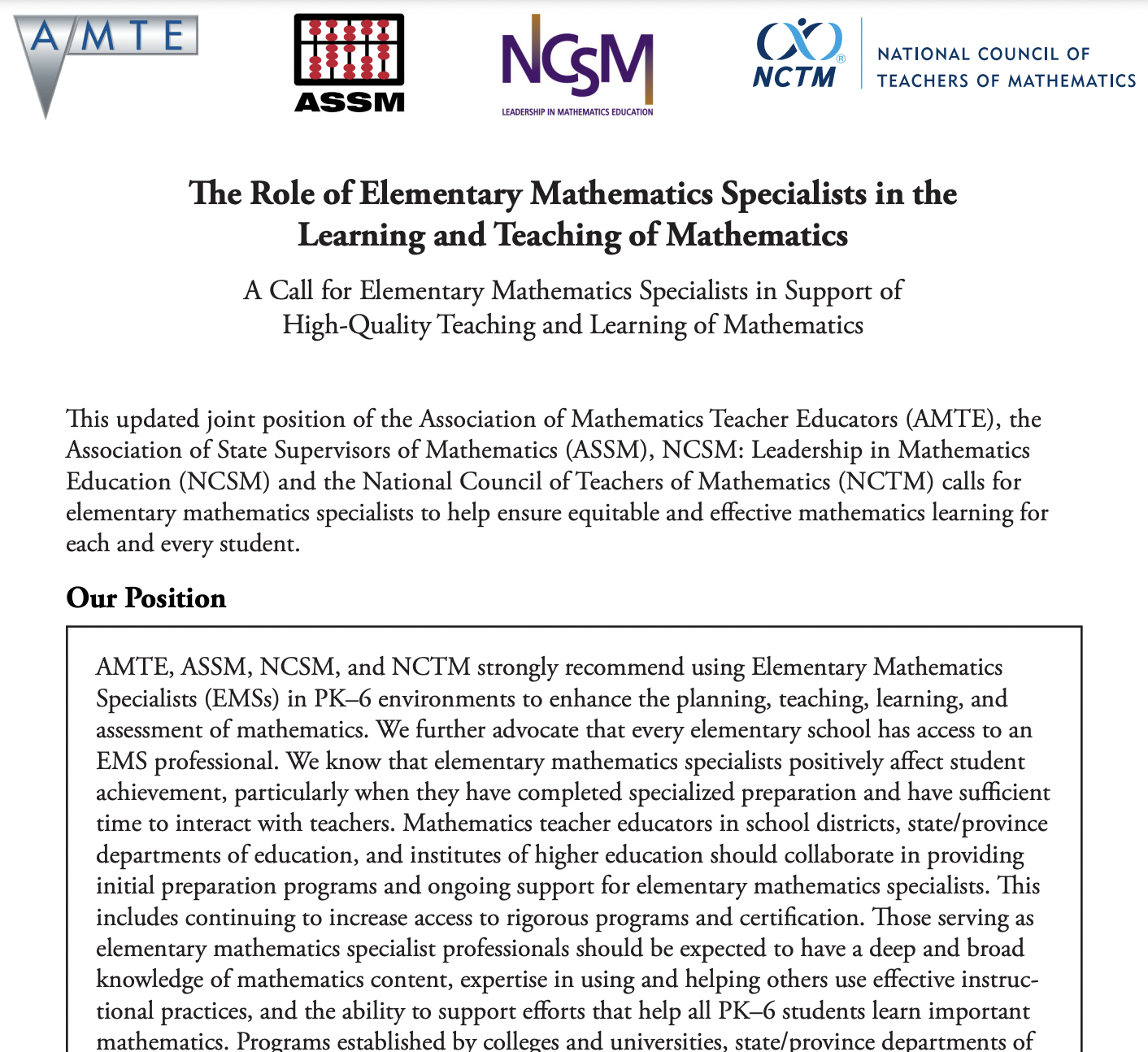 AMTE with ASSM, NCSM, and NCTM developed the first joint position statement when they released The Role of Elementary Mathematics Specialists in the Teaching and Learning of Mathematics in 2010. The position was revised to include new perspectives and research and published in 2022.
Elementary Mathematics Specialists (EMS) Book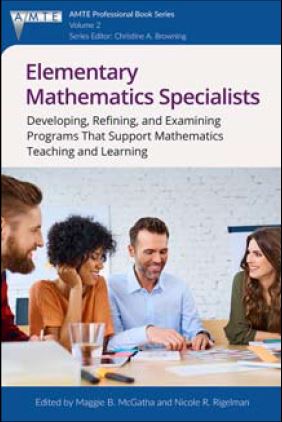 Elementary Mathematics Specialists: Developing, Refining, and Examining Programs that Support Mathematics Teaching and Learning (2017) is AMTE's latest resource supporting the important work of EMSs.  It has five sections related to the preparation and professional development of EMSs: (a) Background; (b) Models for Mathematics Specialist Program Development and Delivery; (c) Ongoing Learning and Support of Mathematics Specialists; (d) Researching the Impact of EMS Professionals and Programs; and (e) What's Next for the Field? The book provides support to EMS practitioners, program providers/developers, and researchers seeking to answer important questions about how to prepare Mathematics Specialists, support them in the field, and research their effectiveness.
States with EMS Certification or Credentials
In 2010, 9 states offered EMS certification or credentials. Following conferences in 2010 and 2011 along with related efforts (e.g., conference presentations, publications, research conference), 23 states now offer state certification for EMS:
Arizona
California
Georgia
Idaho
Illinois
Indiana
Kentucky
Louisiana

Maryland
Missouri
New Hampshire
New Mexico
North Carolina
Ohio
Oklahoma
Oregon

Pennsylvania
Rhode Island
South Dakota
Utah
Virginia
Washington
West Virginia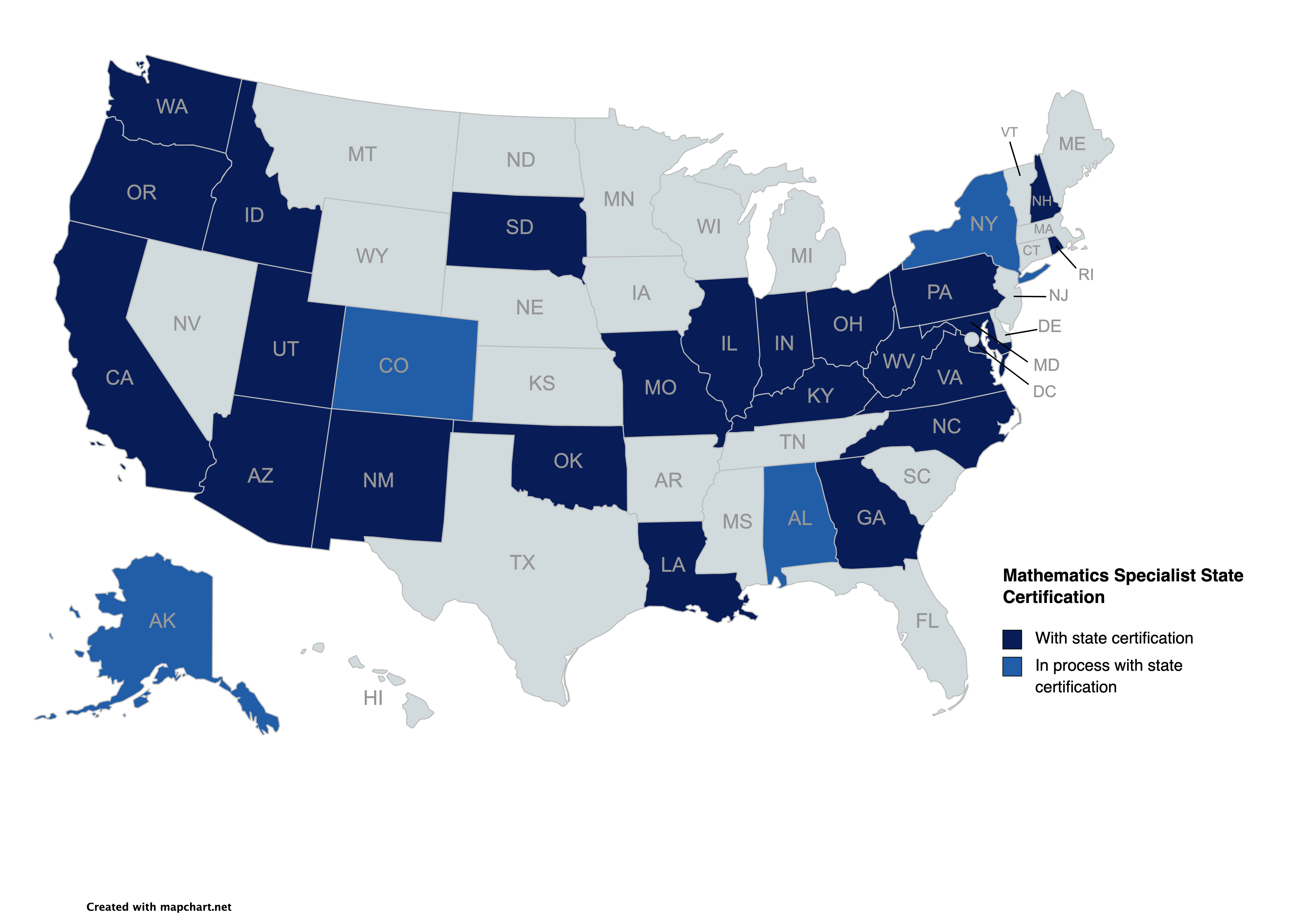 More Information
For more information on AMTE Initiatives in support of Elementary Mathematics Specialists, please contact: