We had a productive webinar in October. The webinar is available online, so if you missed it, feel free to check it out. A reminder that it is affiliate renewal time, so please complete the online renewal form and mail your affiliate dues to Suzanne Harper before AMTE's Annual Conference. The form has been revised to be more user friendly and to support the work of the Affiliate Connections Committee. At the AMTE Annual Conference don't forget to check out the Affiliate Session on Friday and attend the Affiliate Breakfast. We are so appreciative of the work Colleen Eddy has done as Affiliates Connections Chair this year. Take a look at the updated affiliates' map and resources on our webpage. Thanks for the amazing work happening within affiliates to support mathematics education in your region! Let us know if we can support you in any way!
AMTEA
The Association of Mathematics Teacher Educators of Alabama (AMTEA) members participated in a pre-session at the Alabama Council of Teachers of Mathematics (ACTM) annual conference in October 2015. During the pre-session, members discussed important issues (edTPA, Praxis, Alabama Mathematics, Science, and Technology Initiative (AMSTI) collaboration and certification for teacher candidates, and the elementary mathematics specialist certification) and brainstormed the role of AMTEA with these issues. AMTEA also held its annual board meeting at the close of the ACTM conference. The following positions were filled: Dr. Megan Burton (president elect), Dr. Kyolo Johns (member at large), and Dr. Diane Porter (secretary). These members will join the existing leadership team: Dr. Stefanie Livers (president), Dr. Tommy Smith (immediate past president), Drs. Justin Boyle and Shelia Ingram (members at large), Dr. Jeremy Zelkowski (treasurer), and Dr. Gary Martin (webmaster). AMTEA plans to hold a special meeting in the spring that will include an edTPA expert related to mathematics education. 
AMTE-TX
The Association of Mathematics Teacher Educators in Texas (AMTE-TX) held its annual Fall Conference on September 26, 2015 at Tarleton State University in Stephenville, Texas. The theme of "Responding to Principles to Actions" brought together 50 leaders in mathematics education in the state of Texas. We began with a welcome from AMTE President Christine Thomas and a "virtual panel" session featuring members of the Principles to Actions writing team: DeAnn Huinker, Robert Q. Berry III, and W. Gary Martin. Breakout sessions hosted by AMTE-TX members focused on designing and providing experiences for mathematics teachers, situated within the framework of effective mathematics teaching practices and essential elements for school mathematics programs. For more information visit our website. 
CAMTE
The California Association of Teacher Educators (CAMTE) elections were held in November for the positions of President-elect, Secretary and Member–at–Large. We will announce the results of this election in AMTE's next newsletter.
We just participated in the California Mathematics Conference (CMC) in the South in Palm Springs in November, and will soon be represented at the CMC in the North at Asilomar this month. At each of these conferences there are both a CAMTE strand of speakers and many CAMTE members who are speaking. The CAMTE strand speakers and their sessions are listed below:
At CMC-S:
Bob Stein–Saving the Common Core
Babette Benken–Navigating CC Math, Suggestions for Alignment to Higher Education
Cathy Carroll–Leaning from Research: Using Worked Examples in Math Class
Carol Fry Bohlin, Joann Rossi Becker, Mark Ellis & Kathy Hann–Pathways to Teaching Middle School Mathematics: Models and Issues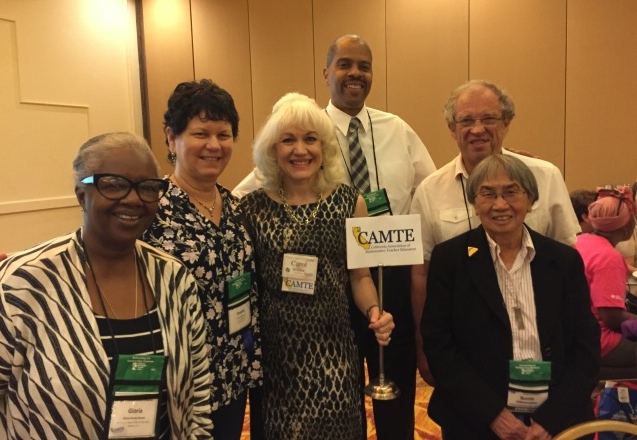 (From left to right: CAMTE Members Gloria Brown Brooks, Davida Fischman, Carol Fry Bohlin, Kyndall Brown, Tom Armbruster, and Susie Hakanssan)
At CMC-N:
Cathy Carroll–Learning from Research: Using Worked Examples in Math Class
Megan Taylor–Enacting the Gold Standard in Teacher Education
Jonathan Dweck–Building a Math Program Strong in Concept and Understanding
Carol Fry Bohlin, Joann Rossi Becker & Mark Ellis–Preparing Middle School Mathematics Teachers –Issues and Models
The day will end with our annual CAMTE Business Meeting.
In addition, CAMTE has been working on increasing its member base to include all those who work with teachers of mathematics, at the university, community college, county, district or school level. To assist with this we have held two Meet and Greets so far this year, one at Cal Poly Pomona and one in Indio. CAMTE also has a task force working on a Position Statement regarding the Standards for Mathematical Practice and Diversity. If you have any questions about the work of CAMTE, please contact it's President Diane Kinch at dokinch@gmail.com
HAMTE
The Hoosier Association of Mathematics Teacher Educators (HAMTE) offered a strand of sessions at the Annual Conference of the Indiana Council of Teachers of Mathematics, October 4-5, 2015. We also held our annual business meeting at the conference.  We heard reports from the Algebra and Elementary Mathematics Specialist task forces and discussed state licensure exams for prospective teachers and the teacher shortage in Indiana. Looking ahead, we began making plans for hosting the 2017 PME-NA Conference in Indianapolis.  Following the meeting, HAMTE submitted commentary regarding the teacher shortage to the Indiana General Assembly Interim Subcommittee on Education. Here is our new list of officers:
President—Sheryl Stump, Ball State University
Past President—Enrique Galindo, Indiana University
Secretary—Craig Willey, Indiana University Purdue University Indianapolis
Treasurer— Rachael Kenney, Purdue University
Newsletter Editor—Andrew Gatza, Indiana University Purdue University Indianapolis
MI-AMTE
The Michigan affiliate of AMTE (MI-AMTE) will hold its first annual meeting, MI-AMTE Conversations Among Colleagues (CAC), at Western Michigan University in Kalamazoo, March 19, 2016. (Please note the change in date!) The purpose of the conference is to bring together people who are involved in the preparation and professional development of teachers—including mathematicians and mathematics educators from universities and colleges and curriculum and professional development directors from school districts and regional service centers—to engage in discussions related to mathematics teaching and learning. The 2016 conversations will focus on Bringing the Standards for Mathematical Practice to Life. The keynote speakers will be Emma Trevino and Edward Silver.  
Christine Browning and Laura Van Zoest are conference co-chairs. See the conference webpage for more details.
PAMTE
Sponsored by the PA Council of Teachers of Mathematics (PCTM) and co-sponsored by the PA Association of Mathematics Teacher Educators (PAMTE) through a generous donation, Pre-Service Teacher (PST) Day was held during the PCTM Annual Summer Conference. Attended by 37 pre-service teachers from across Pennsylvania, Pre-service Teacher Day began with a special session for pre-service teachers conducted by Diane Briars, President of NCTM. The day continued with students attending sessions and workshops conducted as part of the regular PCTM Conference, and the luncheon and Awards Ceremony. The day concluded with presentations by 21 of the pre-service teachers from five universities - Indiana University of PA, Millersville University, Penn State University, Temple University, and West Chester University. The students were supported by their university mathematics education professors (most of whom are members of PAMTE and/or AMTE.) The day concluded with the awarding of numerous door prizes which was made possible by donations from PAMTE and several university Mathematics or Curriculum and Instruction Departments.