HAMTE
HAMTE (Hoosier Association of Mathematics Teacher Educators) had its annual business meeting in October, 2014, and new officers were elected. Sheryl Stump from Ball State University is our new President-Elect and Rachael Kenney from Purdue University our new Treasurer. We are grateful to Past-President Jill Newton (Purdue University), past Treasurer Sue Mau (Indiana University-Purdue University Forth Wayne), and outgoing Chair of the Nominations and Elections Committee Liz Brown (Indiana State University), for the great service they have provided. At the business meeting we awarded the first HAMTE student travel grants. One graduate student was awarded a grant to attend the NCTM Regional Meeting and another one was awarded a grant to attend the AMTE Annual Conference. This year HAMTE will collaborate again with the mathematics education faculty at Indiana University Bloomington, Indiana University-Purdue University Indianapolis, Purdue University, and Indiana University-Purdue University Columbus to host the fourth Indiana Mathematics Education Research Symposium (IMERS) on Friday March 27, 2015. HAMTE was well represented at the 2015 AMTE Annual Conference and members in attendance got together during the affiliates breakfast.
Creating Algebra Teaching Communities for Hoosiers (CATCH) is a recently funded collaborative Indiana Math and Science Partnership developed by HAMTE members from four universities (Purdue University, Indiana State University, University of Southern Indiana, University of Indianapolis) to work with four school districts in Indiana to enrich algebra teaching and learning. Middle school and Algebra I teachers from each district will participate in the professional development experience which will occur over a two-year period (three summers, two school years). Principal Investigators are Doris Mohr (University of Southern Indiana), Jill Newton (Purdue University), Rick Hudson (University of Southern Indiana), Jean Lee (University of Indianapolis), Winnie Ko and Jodi Frost (Indiana State University).
PAMTE
PAMTE (Pennsylvania Association of Mathematics Teacher Educators) will hold its 9th Annual Symposium at Shippensburg University on May 13-14, 2015. Registration and program information will become available on the newly redesigned  PAMTE website (www.pamte.org) in early April. The program committee for the symposium is comprised of Kim Johnson (West Chester University), Amanda Thomas (Penn State Harrisburg), and Tyrone Washington (Millersville University)–all are AMTE STaRs! Contact Kim Johnson (KJohnson2@wcupa.edu) if you would like to submit a proposal to speak at the symposium.
PAMTE conducts its annual membership drive in concert with the Annual Symposium. Persons who wish to join PAMTE or who wish to renew their membership can download the 2014-2015 membership form at www.pamte.org.  For additional information about PAMTE membership, contact PAMTE Membership Secretary Jane Wilburne (jmw41@psu.edu) or PAMTE President Tom Evitts (taevit@ship.edu).
SCAMTE
Members of SCAMTE (South Carolina Association of Mathematics Educators) were well represented at AMTE's Annual Conference. Below are a few affiliate members that attended the Affiliate Breakfast. l to r: Leigh Haltiwangerand Nicole Bannister, Clemson, and Mary Pat Sjostrom, Winthrop.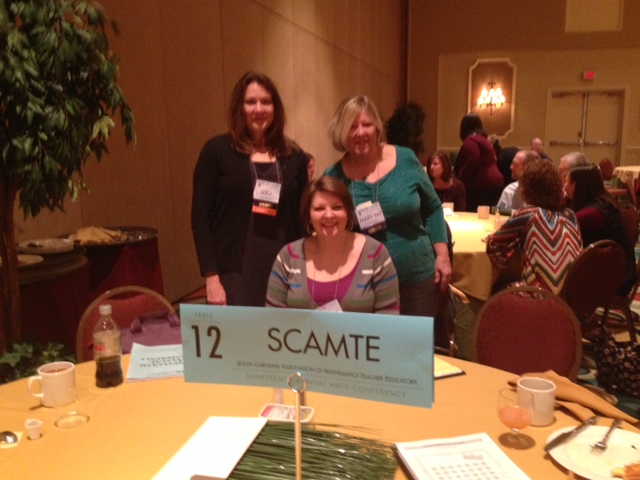 TAMTE
The Tennessee Association of Mathematics Teacher Educators (TAMTE) Board members for 2014-2015 are: President – Ann Assad; Past-President – JoAnn Cady; Treasurer – Stephanie Kolitsch; Secretary – Sarah Bleiler; School District Liaison – Pam Stidham; Community Colleges Member-at-large – Julianna Gregory; Private School Member-at-large – Brandon Banes.
Jeffrey Pair was the recipient of the first TAMTE Conference Travel Scholarship. This scholarship pays for registration for a first-time attendee at the Annual AMTE Conference. Mr. Pair is pursuing a doctorate in mathematics education at Middle Tennessee State University. He attended the AMTE conference in Orlando in February 2015.
TAMTE maintains active collaboration with other advocates for mathematics education in Tennessee, maintaining seats on the board of the Tennessee Mathematics Teachers Association and on the Tennessee STEM Ed Leadership Council. Ann Assad attended meetings of these in January and February, respectively.
A National Council of Teachers of Mathematics Regional Conference will be held in Nashville on November 18-21, 2015.  Members of TAMTE are in leadership roles in the organization of the conference, and several members are scheduled to present. We look forward to seeing everyone in Nashville.